This mobile application is extremely interesting. It allows you to read your favorite books in electronic format at any time and any place. This application is simple and easy to use. That is why it is preferred by many users today.
Features
The interface of this application consists of several screens at once. You can view all books, recently read editions, books added to favorites, folders, and available libraries. When the application is launched for the first time, it scans automatically the files on your device. It only takes a few seconds. Then the screen displays a list of files that you can view in this application. It is not possible to delete files from this list, that's why the list usually contains many documents that have absolutely nothing to do with the books. With a short press on a file you can open it, with a long press you can explore the available information about the book.
Each tab can be viewed in two modes: as a list or as thumbnails. In the second mode there is a display of book covers, in the first mode you can see the cover, author, title, and document format. If you want, you can sort books by date added, author or title. There is a search button at the top of the screen. It allows you to quickly filter the list of books. A little to the right there is an icon which opens the application menu. It can be used to perform a scan, as well as to activate a file and see information about this mobile reading application. To scroll through the screens just use the horizontal swipe.
When you launch the application for the first time there is nothing in "Network Libraries". You have to add a directory there. You can do this in just a few seconds. There are different ways to flip pages. The choice depends on the user. The default method is horizontal scrolling. If you click on the center of the screen, the settings appear in the form of a wheel. You have to use them to control the application. Initially, it may seem that this is inconvenient. But, in fact, it is rather useful. Users get used to it almost immediately. After that there is absolutely no desire to go back to the context menu and buttons.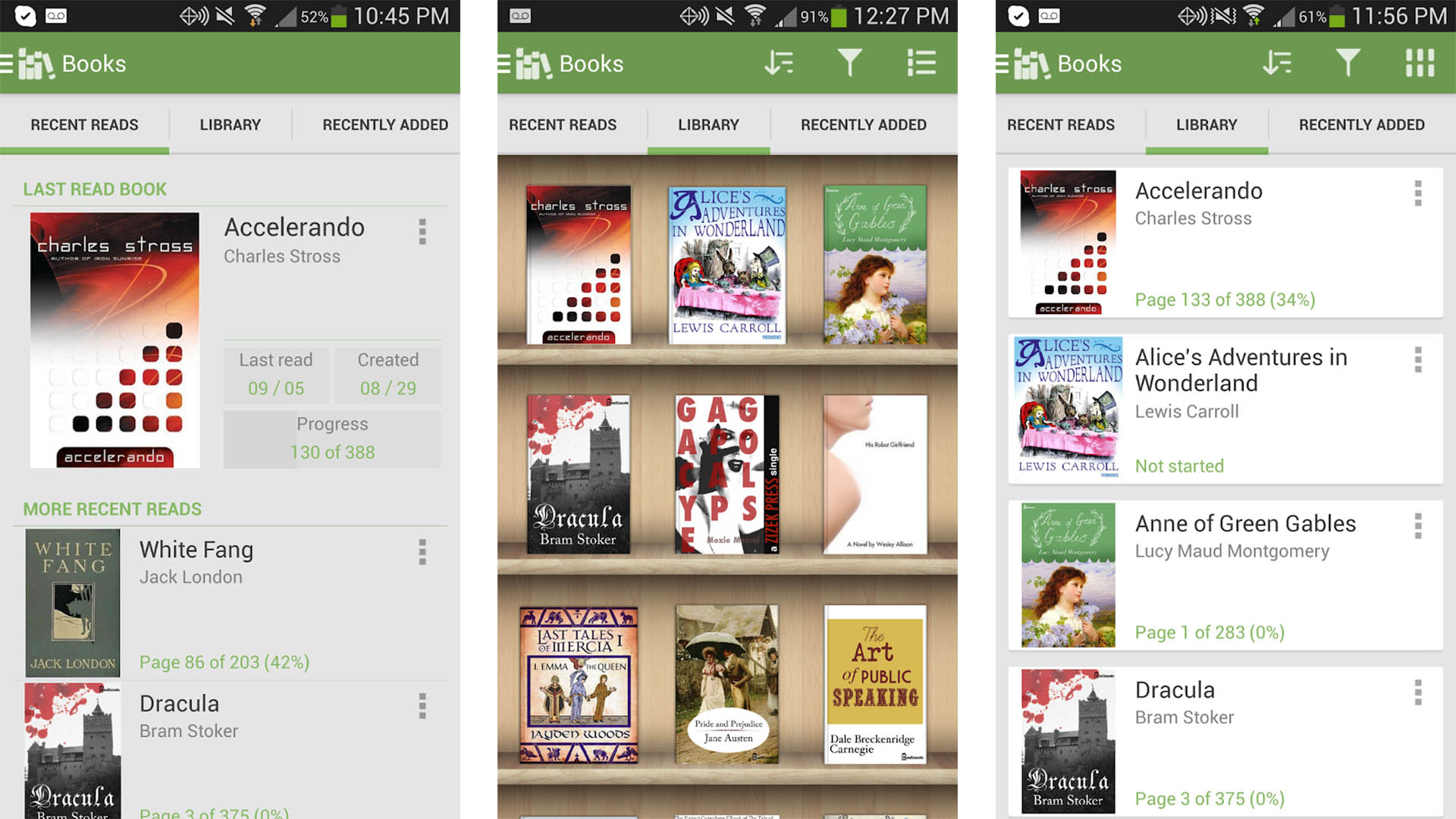 The first icon on the control wheel allows you to switch the automatic screen orientation to a fixed screen orientation. The second icon is responsible for how the page will be displayed. It can be a book view with page flipping horizontally. It is also possible to switch to a list view. In this case vertical scrolling will be used. In this orientation the text is displayed not in one column, but in two columns. It looks rather interesting. But you should mind that a smartphone screen is not very good for such orientation. Everything looks too small.
On the right side of the wheel there is an icon for selecting a color scheme. Four options are possible: black on white, black on gray, white on black, and black on light beige. Next there is an icon that can be used to work with the text. Just click on it to bring up an additional toolbar. Text can be highlighted with a marker, commented or taken as a screenshot. Under the control wheel there is an indicator of what has been read. It is enough to click on it to get to a certain page. In order to return, you need to click on the arrows provided.
To view the table of contents, tap the line icon at the top of the screen. From the table of contents, you can access notes or information about the book. At the bottom there is a quick text search icon. As you see, it is extremely easy to use. This application allows you to read books in electronic format as easily and comfortably as possible.