All people like to read books. Some people choose fiction. Others prefer philosophical literature, some people consider only classical literature a real art. It is not necessary to buy printed books. Tablets and smartphones give an excellent opportunity to read favorite books at any time and in any place. You don't have to carry heavy books around. You just need to use AlReader mobile reading application.
Features
Many users are well aware of this program. Today it is incredibly popular on Android devices. This application is just perfect. It allows to download e-books in different formats. Settings are available in this application which allow to set up a program to the needs of a certain users. Even those who see the app first time in their life  can easily do this. In order to make it as comfortable to read as possible, you need to select the appropriate font, as well as to choose the optimal font style. There are also other interesting features in the application that make it very user friendly.
Once the application is running, you need to select the file you want to read. Then you can set the parameters that suit you. This does not require any special knowledge. It is enough just go through the top menu. The settings are very clear and easy. All changes will be immediately reflected on the page with the text. To apply the settings, simply click on the button provided.
The program has a lot of features. And it is not a coincidence that it attracts a huge number of users. It is possible to create different profiles with a certain brightness of the screen. The choice of fonts is extremely wide. And, hence, the user can read books as comfortably as possible. You can even choose a specific background and color of the text. If you need indents for comfortable reading, you can set up them as well. This is done with the help of the available settings. The mobile application also provides different options for scrolling text. This feature allows you to make this application even more useful.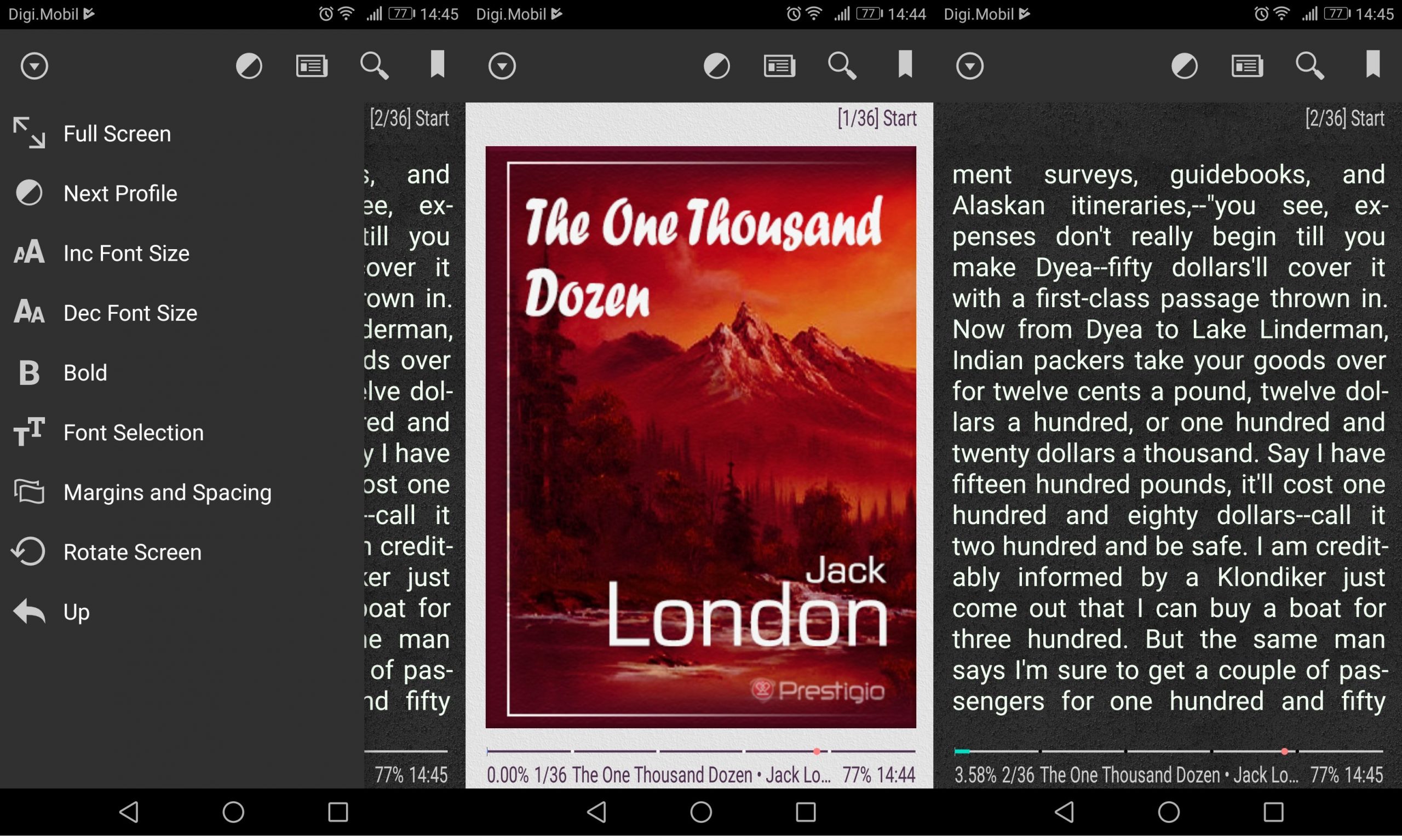 This mobile reading application allows users to read literature in the most possibly convenient way. You can also choose certain settings that are handy for the user. If desired, you can even edit the text. The program provides not only basic manipulations, it is also possible to create marks on the pages. If in the process of reading you come across some obscure words or phrases, it is possible to put them into the dictionary.
The developers of this application give you the opportunity to enjoy hundreds of books. All of them are stored in the database. You can put the books you liked into the list of your favorites. The features described above are considered the main ones, but there are also some additional features in the settings. You can learn them while working with this program.
The main advantage of this mobile application is its simplicity and extremely user friendly functions. The program has everything you need for comfortable books reading. There are no excessive overkill features. For example, there is no usual bookshelf. Nor is there a main screen. But in this application users can configure the settings and set up the app specifically for themselves, and create different profiles at the same time. It's very convenient.
The developers did their best so that everyone can read books without any difficulty. This option is ideal for experienced users. The program adjusts to a certain taste and quickly adapts to any situation. For the beginner, things are a little more complicated. It is important to become familiar with the features of this application beforehand.